Announcing the Global Tobacco Control Progress Hub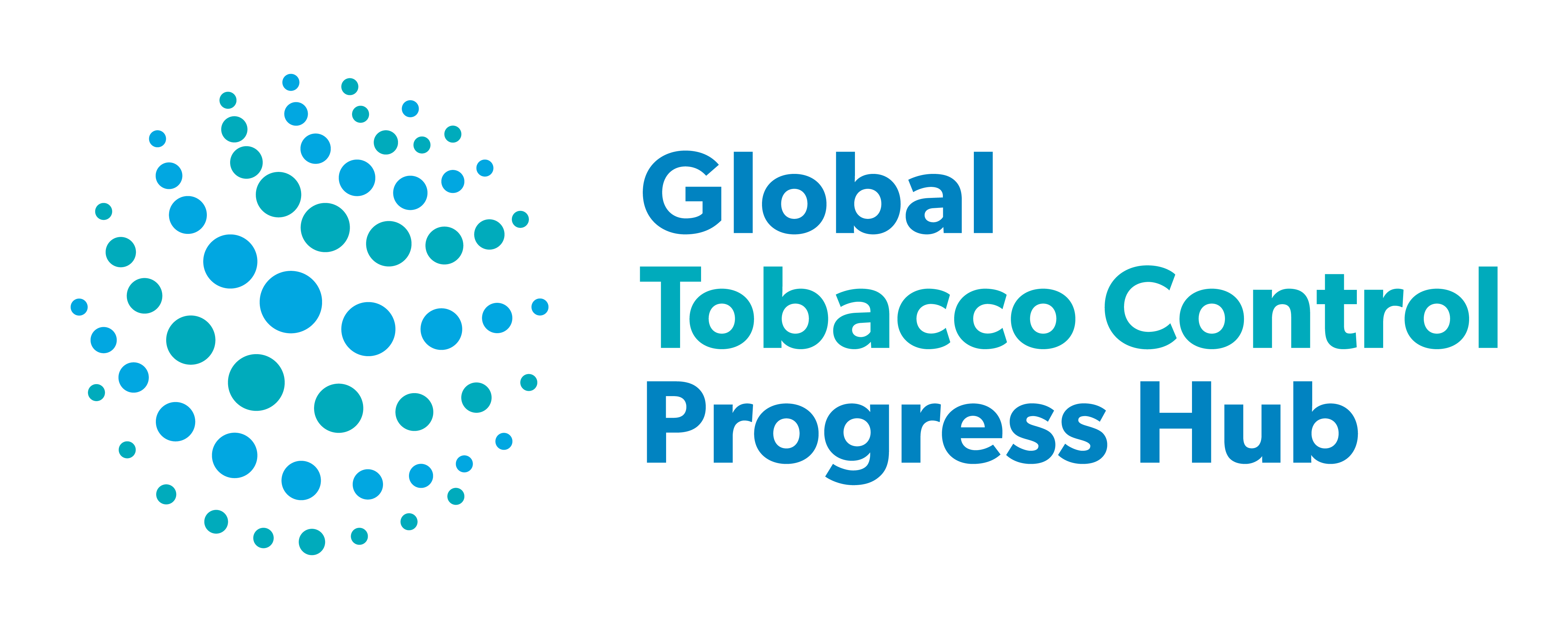 Tobacco control stakeholders around the world have a new data reporting platform at their disposal with the launch of the Global Tobacco Control Progress Hub. This fully interactive data visualization platform brings together multiple datasets for easy navigation, interpretation, and analysis, and could be used to assess global progress in tobacco control.
The platform was produced by ASH Canada with support from the Institute for Global Tobacco Control at Johns Hopkins Bloomberg School of Public Health and funding from Bloomberg Philanthropies.
The Progress Hub (globaltobaccocontrol.org/progresshub) will be publicly available starting on Wednesday 30 November 2022.
A series of multilingual webinars, designed to demonstrate the Progress Hub's features, functions, and capabilities, will take place via Zoom webinar on Tuesday 29 November 2022. Registration is required. Choose one of the times below to register:
8 am EST/ 1 pm GMT (available languages : English, Spanish, French, Arabic)
Noon EST/ 5 pm GMT (available languages: English, Spanish, French, Portuguese)
10 pm EST/ 11 am (30 November) China Standard Time (available languages: English, Bahasa Indonesian, Bangla, Chinese, Vietnamese)
"We are very excited to launch this ambitious new interactive data platform for the tobacco control community," said Les Hagen, Executive Director for ASH Canada. "The Global Tobacco Control Progress Hub will help present global tobacco control efforts, including implementation of the WHO FCTC, with the goal to support tobacco reduction efforts globally."
The Progress Hub features four dashboards that allow users to explore over 300 tobacco control performance indicators, representing more than 180 reporting countries and spanning 12 years of data collection by the WHO and the Secretariat of the WHO FCTC.
"These user-friendly dashboards will allow visitors to track current and historical data through engaging interactive data visualizations," Hagen said. "Tobacco control stakeholders will find it much easier to interpret and analyze this important data as they work to reduce death and disease due to tobacco use."
Users can quickly explore and analyze large volumes of data, displayed in engaging color-coded maps and graphic visualizations. Dashboard screens can be downloaded in various output formats, including Adobe PDF, Microsoft PowerPoint files, and PNG graphic files.
A multi-agency international steering committee guided the development of the Progress Hub. The committee consists of representatives of the following organizations: ACT Promocao da Saude (Brazil), Campaign for Tobacco-Free Kids, CDC Foundation, Global Center for Good Governance in Tobacco Control, International Union Against Tuberculosis and Lung Disease, Secretariat of the WHO Framework Convention for Tobacco Control, Shahid Beheshti University of Medical Sciences (Tehran), ThinkTank Research Center for Health Development (Beijing), University of Illinois at Chicago, Vital Strategies, Voluntary Health Association of India, and the WHO Tobacco Free Initiative.
For more information, visit globaltobaccocontrol.org/progresshub.